First written mentions about Letnica (Lättnitz, Lechnicz) originate from 1305 year, when this determined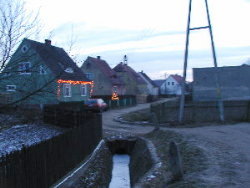 she property of count Mlodote (Młodota). However colonization on ground Letnica reaches of times much earlier, about what testifies found treasure eleventh age of coins. Letnica behaved for present day specific character, because after war new building limited oneself only to several of houses. All other buildings reach of pre-war times, and even and earlier, as was found here house thatched roof.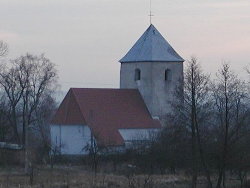 In village remained of many traces of past. In centre of locality stands church under the invocation St. Szymon and Tadeusz, erected in XVI age. Exist about him however mentions from XIV of age. Probably present church became raised familiar to oneself place. Object was many times rebuilt, however behaved features of gothic style. Is this church one aisle from presbytery, close-fitting sacristy. From west is found tower. In church this for present day sends away oneself services.
Opposite of church, on the other side of street, remained remainders of knightly lock, which after great fire in 1642 year did not become rebuilt. Remaining only parts of wall from stone field (XIV age) where one drove excavation works. Found here objects one delivered Museum Archaeological in Świdnica.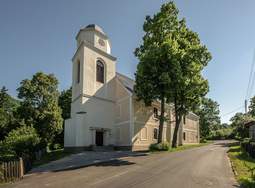 In upper parts of village is found evangelical church erected in 1743 year, and rebuilt in 1819 year on style neoclassical. Piece of gossip is this, that after war of service took place in two churches with summer in evangelical, and in winter in church parish. In years sixtieth church one devastated. Bell one transfered to second church, instead remaining elements of equipment (organ, pulpit, benches) became stolen away and worn out. By some time church was cereal magazine. Behaved however in interior elements decorative and colouristic.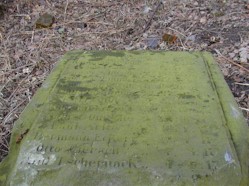 Close by of church remained sepulchral plate killed in and to war St. Inhabitants. Local population affirms that among oboma churches exists underground passage, to which entry is situated behind statuette at church under the invocation St. Szymon and Tadeusz.

In vicinity of evangelical church is situated mansion erected in XVI of age. When this village one divided on two parts: upper and bottom.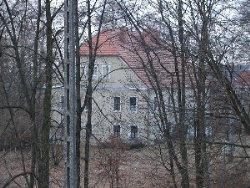 Surrounds him park, transformed in beginnings XIX of age in park about scenery character. On northest - west from mansion is found ground former of yard grange with habitable building, raised in second half XIX of age. Today manor house lives artist-plastic Henryk Krakowiak.
Church evangelical and mansion create LETNICA ARTISTIC FORTUNE.

In village was found also brewery, to which belonged settlement Dober.
Today in this to place is found club room country and flats private. While in building of today's shop former bakery. Existed also slaughter-house and creamery behind village, which later one adapted on factory of flower pots.
In Letnica were found also left by the Germans cemeteries. One behind village, where today is found catholic cemetery, second in upper parts of village (at present ground of gravel-pit) where yet not long ago was found several of graves surrounded with spruces.

Local population with fondness remembers past times, remembers many. Remember inn from brick, with specially placed windows at earth. Remember also German, which one shot and one hid in park at mansion, because did not want to lower village.
In 2005 year Letnica to inspect will be 700 of yers of risings.



(On base "Changes of cultural scenery in village Letnica" - Beata Pańtak)

Darmowy hosting

zapewnia PRV.PL